Need to get your message across?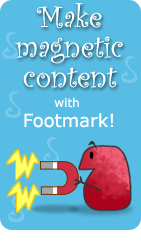 Footmark Media is a website design, web development and electronic media agency based in Hampshire, 70 miles from London.
Serving local, national and international clients, we focus on the design and delivery of information in an electronic format -
design and development of bespoke websites
web-based interactive applications and projects
e-commerce
data stick and CD-ROM / DVD delivered projects
online and on-site presentations
touchscreen applications.
Unlike some web companies, we are totally independent and do not have a financial interest in selling you a specific software system or approach. This enables us to research for you the best solution within budget with the most effective after-launch management approach for your needs.
We are a deliberately small company, adept in developing flexible working formats with both our clients and our associates, enabling us to provide a personal service and to work wherever and whenever you need us (onsite or overseas if required).
We take on small jobs as well as large corporate work, partner in entrepreneurial start-ups, offer support work for charities, and have a strong background in interactive educational and heritage projects.
Recent client:
Sreepur Village, Bangladesh. Charity for destitute women and children
Charity website.
Video, photo tours, interactive map,
SEO, ongoing ideas and marketing help, client maintenance.
Our services include
design and development, content creation (text-based, graphics, interactivity, photographic, audio and video),
training and support for your project,
project consultancy (researching needs, software, tendering, accessibility),
online shops,
databased websites, and
online marketing and search engine optimisation.
Design, user experience and e-marketing consultancy come as standard with any project - we get as involved in your project as you are!
Our experience means that we provide the website, web project or delivery system you need to meet your audience. We deliver on time and within budget.
One minute 'how we can help you'!
If you need or are considering a new website, a website upgrade, an online educational or training project, or a web marketing approach...
If you are looking for an effective way to give out information or to encourage a target audience response...
If you need to engage your audience, perhaps with different levels of interest or ability, and create specific outcomes...
If you want to create interesting content, audio, interactives, animating presentations or video at reasonable cost...
If you want to expand how you deliver content, want to create 'giveaways' or branch out into electronic publications...
If you want a personal service from people who will care about your project...
CONTACT US : To chat through your needs and for friendly professional help call us on 07809 524300 or email > enquiries@footmark.com
See our > client list for examples of our work.